In this section of the how-to, you will see how all the previous sections connect in order to apply Numeric Marking to your Institutions Subjects.
You need to go to the Subjects page to view your existing subjects and/or create new subjects.
Configuration Main Settings Subjects List of Subjects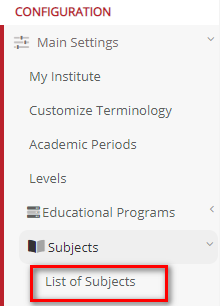 Figure 25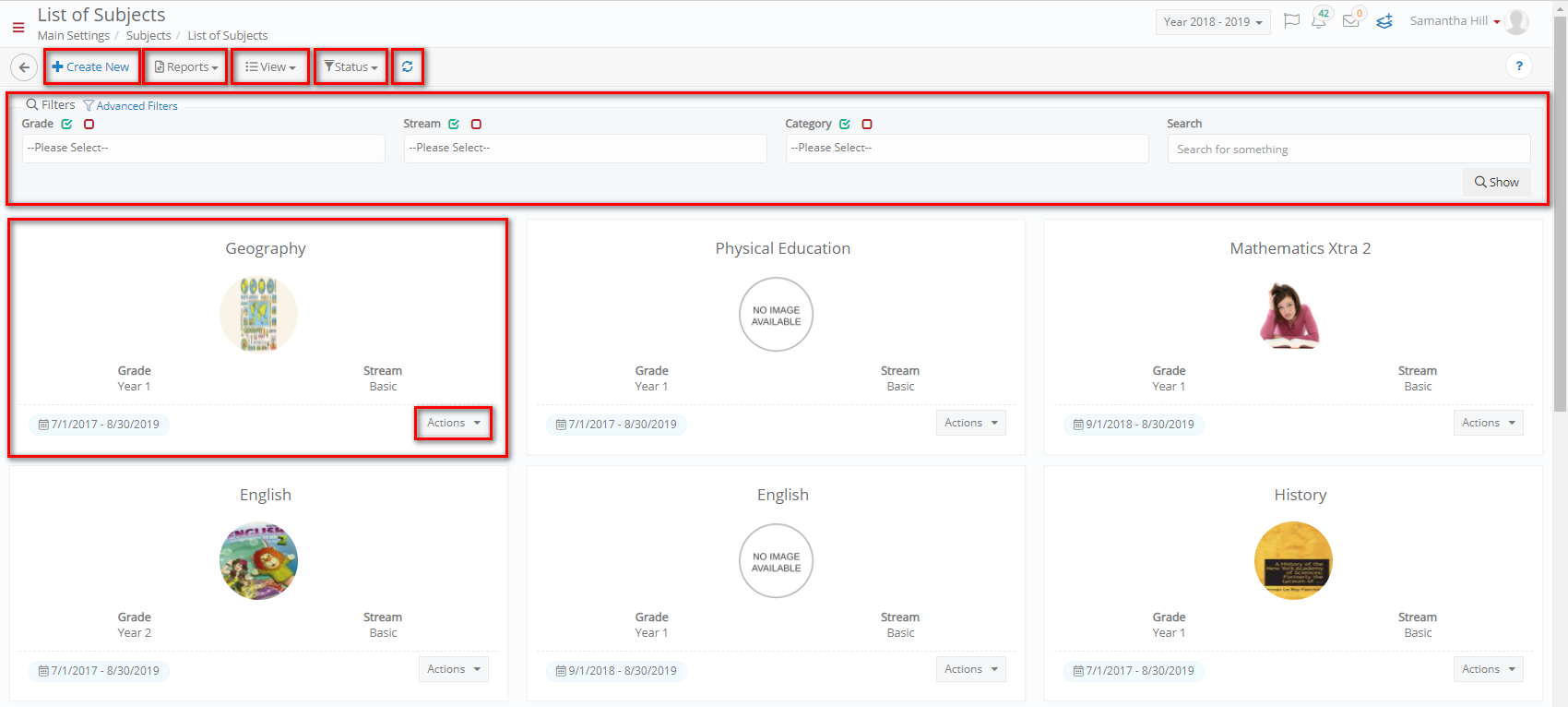 Figure 26
To easily locate subjects, use the filters (Grade, Stream, Category) to locate the subject/s you want.
You may also use the Search field to locate a specific Subject
You may also choose to view results in a Grid or Card view by clicking on the View dropdown list and choosing your preferred view.
By clicking on the Status dropdown list, you can choose to view Active, Inactive or All Subjects.
For some help, you can click on the '?' button located on the top right corner of the screen.
You can create a new subject by clicking on the +Create New button located in the top left corner of the main screen.
You can edit a subject by clicking on it.
For the purposes of this manual, you will see below how we edit a subject to add the Marking Periods, Marking Criteria, Marking Ranges and Marking Scenarios you created earlier. The same steps will apply when creating a new subject (regarding Numeric Marking).
Edit Subject
Once you have clicked on a subject you wish to edit, you will be transferred to the Edit Subject page. The default tab is the General Data tab. Switch to the Academic tab to enter the marking information.

Figure 27
Once you have clicked on the Academic tab you will be able to see all the Academic Options available for this Subject.
Marking Periods: You can add the marking periods you created in the previous section of the manual or use the pre-existing ones. Here you add the time periods in which your students will be receiving marks e.g., 1st Term.
Marking Scale: With this option, you will need to add one of the Numeric Marking Ranges you created or edited in the earlier section of this manual. For example, Basic (0-100). You can also choose None if you only wish to add Descriptive Marking Ranges.
Descriptive Marking Scales: In this option, you can choose a Descriptive Marking Range you created or edited in the earlier sections of the manual e.g., Behavioral Scale.
Marking Scenarios: Here you can set up which scenarios you want to be available for each period e.g., 1st Term, Main (Marking Scenario Numeric), General Assessment (Descriptive Marking Scenario), Full (Descriptive or Numeric Marking for evaluation of each of the Teachers Sessions), 0 decimals. You can choose to have only Descriptive or only Numeric Marking Scenarios. Click on OK button.


Figure 28
Setup Homework Scenarios: Not part of this manual.
Criteria Model Scenario: Is the Scenario (Descriptive Marking) linked to Leaning Outcomes for each subject. It is used for levels that may not yet have letter or number marks e.g., Kindergarten.
Limit of absences: Not part of this manual.
Limit of Unauthorized absences: Not part of this manual.
Books: Not part of this manual.
Once you are done adding your new Marking Periods, Ranges, Criteria, Scenarios you may save your changes by clicking on the 'Save' button.