Watch the How-to Video
---
Select Series of Documents Categories from the dropdown field. On this page you can add or edit Series of Documents Categories that set the sequence of numbers used to numerically identify e.g. Invoices. These Series will then be available to users (Admins, Staff, Students and Payers) in the financial forms and management sections.

Figure 39
You can copy, delete, or edit series of documents categories by clicking on the respective buttons.
Search for specific series of documents categories by filling in the 'Search' field.
Add/ Edit Series of Documents Categories
By clicking on the '+Add New' button you will be able to see the following popup window (Figure 40).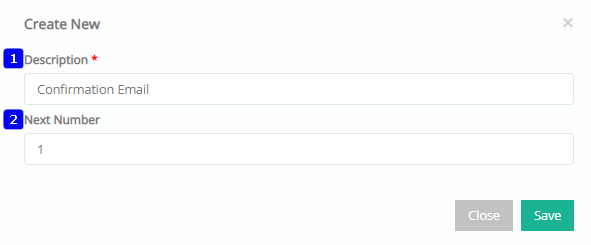 Figure 40
In this window you can add a new Series of Documents Category (Figure 40).
Description: Here you can enter the description of the Series of Documents Category you want to create e.g. Confirmation Email.
Next Number: Here you can define where the numbering series will begin e.g. 1, the first confirmation Email will have the number 1 and so on.
Click on the 'Save' button to save series of documents category.
To edit the Series of Documents Categories, click on the edit button and make changes to the required fields.