Use the actions menu to create new transactions. There are three types of transaction:
Invoice and Payment. This option creates a double transaction, consisting of an invoice and a payment voucher.
Payment Receipt. This option creates only a payment voucher.
Invoice on Credit. This option creates only an invoice.
Click on the 'Actions' menu at the top right side of the page (Figure 136).

Figure 136
At the new transaction pop-up window, select the transaction details (Figure 137).

Figure 137
'Type of Reason'. Select the type of reason from the drop-down list e.g., Automatic (Figure 138)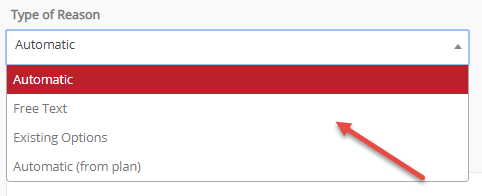 Figure 138
'Automatic' will show the instalment and the arrangement e.g., March [Learn about the World]
'Free text' will show the text that you will enter.
'Existing Options' will enable you to select between the existing options i.e., Payment, Payment of Fees and Pre-Payment; thus, it will show the existing option and the arrangement e.g., Payment [Learn about the World]
'Automatic (from plan)' will show the text set by the admin at the billing plans settings

'Payments Account'. Select the cashier from the drop-down list e.g., Cashier 1 (the list is set by the admin)
'Payment Method'. Select the payment method from the drop-down list (Figure 139) e.g., Cash (the list is set by the admin)

Figure 139
'Transaction Numbering Type'. Select if it is an automated or handwritten transaction
'Payments Account Employee'. Select the name of the employee from the list (set by the admin) e.g., Adams Revs
'Date'. Select the date of the transaction e.g., 06/03/2019
'Transaction Type'. Select the type from the available list e.g., Cinv Company Invoice (set by the admin)
'Transaction Number'. It is an automatic serial number (set by the admin)
'Remarks'. Add a comment about the transaction
'Payers'. Select the payer from the drop-down list
'Arrangement'. Select the arrangement you want to create a transaction for e.g., Learn about the World
The instalment due is automatically selected and at the text box 'Total' you can see the instalment amount e.g., 10€ (March instalment).
Note: you can change the amount and it will automatically create the next instalments e.g., 30€ (for March, April, and May instalments)
Click on the calculator button to calculate the payoff amount if you want to pay off all the instalments
Click on the 'Save' button to complete the transaction.
Note: The creation procedure is the same for all three types of transactions