How can I send a financial notification?
The payment of tuition fees can often be delayed, or in some cases forgotten as parents and payers may have a lot on their minds. Therefore, educational institutions need to be able to send reminders! Classter offers the functionality to send payment reminders to parents or payers, to ensure an institution's financial health and keep parents and payers up to date on their financial responsibilities. These reminders are in the form of financial notifications, which are default message templates to streamline the messaging process.
Tip: You may communicate to parents/payers the online payments manual, which describes how to make and view online payments as a parent or payer of tuition, administrative and service fees.
Let's see how you can send financial notifications through Classter.
First, you need to be logged in as an Admin. From the main menu, go to Financial→Financial Overview. (Figure 1)
Figure 1
In the next window, you may either filter your choices (e.g. by view type, date, status etc.) or directly click on the button "Show" to view a financial overview of your educational institute. (Figure 2)
Figure 2
In the displayed list you may either search by name, or filter the results by month, arrangement and program. Otherwise, you may scroll up and down to track the arrangement you are interested in. (Figure 3)
Figure 3
Then, you may select one or more arrangements, and from the menu "Bulk Actions" click on "Send Financial Notification". (Figure 4)
Figure 4
In the pop-up window, choose the "General Financial Notification" as your template and your Recipient Type from the dropdown list, then click OK. (Figure 5)
Figure 5
In the next window, you will see a default template in the Message section, which you may edit accordingly, with the name of the payer and the amount to be paid. You may also change the Subject line, attach a file and more. Once you are ready, send the email by clicking on the button "Send Message". (Figure 6)
Tip: Find additional information on how to edit templates here.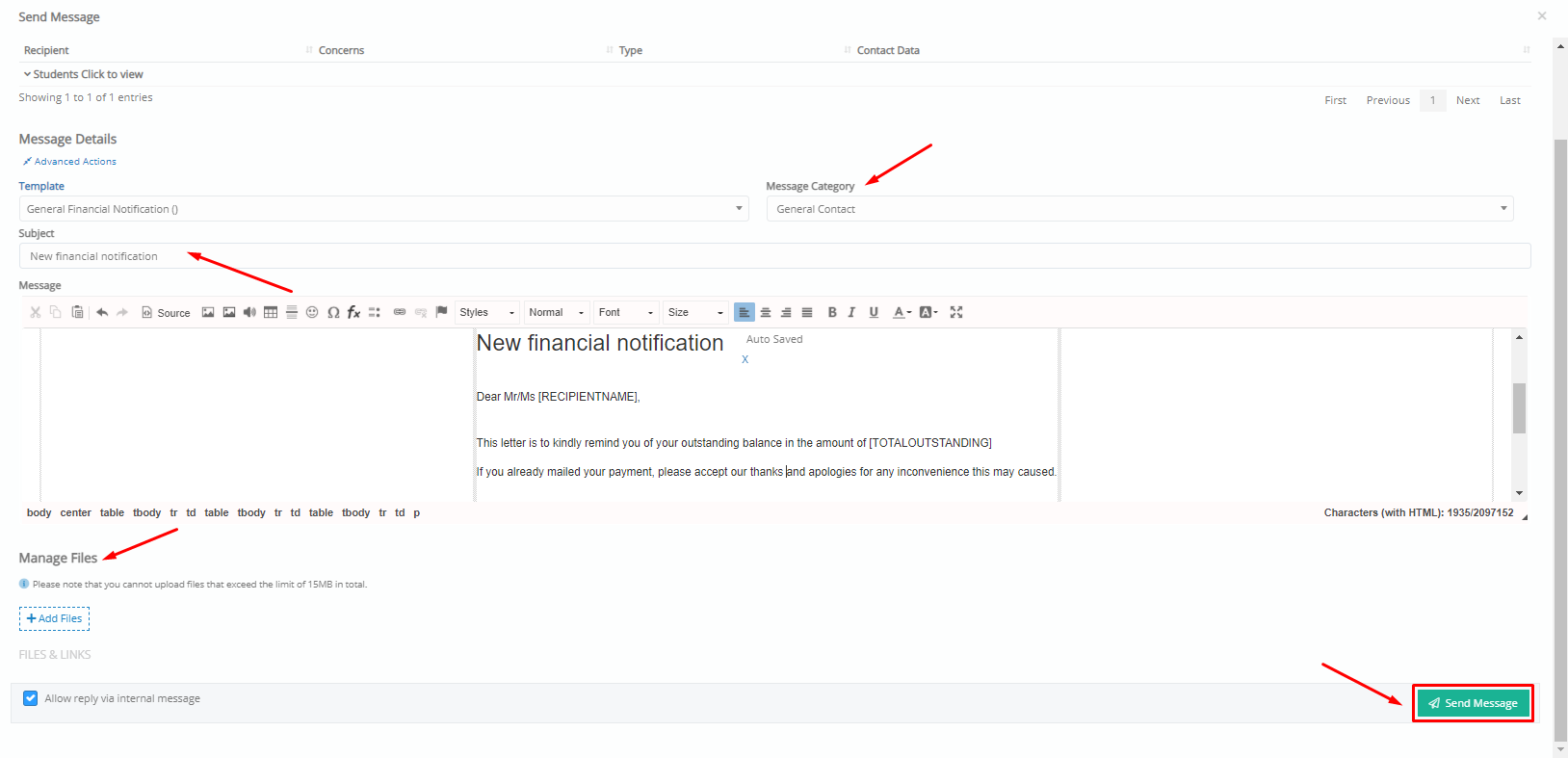 Figure 6
Staying on track with payments is vital for your institution's financial viability. Classter enables you to view all your arrangements in a list. You may also see each arrangement agreement per student.
Extra Tip: You may take a look at our Billing Module Manual to take advantage of all its functionality.
---
Find more or post your questions on our Facebook Community Page. Also, watch our how-to videos on our Youtube channel.