Students' attendance is a very important aspect of the academic process as it can predict future academic performance. Here you will see the two ways to track a students' class attendance.
Tip: You may find additional information about attendance management in Classter here.
There are two methods to check a student's attendance in Classter.
Method 1
Logged in as an Admin, from the main menu, go to Students → Students List. (Figure 1)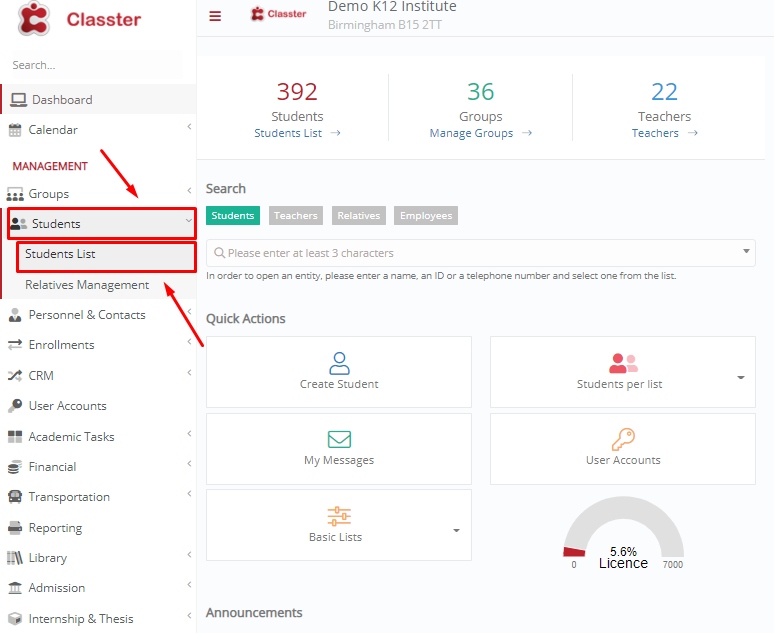 Figure 1
In the student's profile, from the "Views & Statistics" tab, click on "Academic Progress". (Figure 2)

Figure 2
In this window, you want to enter the "Attendance" tab and click on the button "List Entries". In this way you will see all types of absences for this student. (Figure 3)
Figure 3
Method 2
However, we suggest that you use the "Attendance List" option for a better overview, filters and management tools related to the student's absences.
To access this menu, from the main menu, go to Academic Tasks→Attendance→Attendance List. (Figure 4)

Figure 4
In the next window, select the student you want to see the absences from the "Student Filter" field. If you wish, you may select a time range and absences category from the respective fields to specify your search. Click on the "Search" button. (Figure 5)
Figure 5
All absences for the selected student are displayed in a list. You may filter them by type (absence, late, presence), or use the "Grouping" and "Bulk Actions" menus to unfold further functionalities. (Figure 6)
Figure 6
Extra Tip: Do not forget to take a look at our Academics Module Manual: to take advantage of all its functionality.
---
Find more or post your questions on our Facebook Community Page. Also, watch our how-to videos on our Youtube channel.