View from User Perspective
Below we will show what the Library management looks like from the different user perspectives. In all views, we have the Institute Library and Lending History menus (Figure 40).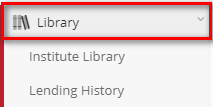 Figure 40
Student Portal
From the student portal we can access the library module (Figure 40), where it is possible for the student to view all books available in the institute library or view their lending history.
Institute Library
Click on Institute Library menu to view all books available on the school's book list.
Figure 41
Note: If a book from a No Lending library is in the library list, students will be able to Preview the book but not have the option to reserve the book. Students will be able to preview a book and see all files and links that have been added.
Lending History
Click on Lending History menu to view that have been borrowed, reserved or are part of the student's lending history.
Active Loans
In Active Loans, students can see books that they have borrowed and are in their possession. Here they will be able to see the Lending Date, Date to Return and Lending Comments (if any).


Figure 42
Books in Reservation
From the Books in Reservation tab, they can see books that they have reserved and will like to borrow once available. This will show the reservation date and reservation comments (if any). Students will be able to cancel reservations.


Figure 43
Lending History
In the Lending History, you can see the details of books that have been returned.


Figure 44