Add New Notification Services Configuration

Figure 14
Turn the Enabled switch on to enable the use of this notification service configuration.
Choose a Notification Type e.g Total Absences Notification (types created by administration/system).
In the Comparison Number field, you enter the number of days before the notification should be sent. In general, this checks the due date for e.g an assessment and sends a notification x days before the due date. In this case we need the notification to be sent out the day a student exceeds the absence limit for a class or subject.
Choose the recipients of the notification in this case the parents, teacher and school employee.
Choose the Internal Employee responsible to receive the notification e.g David Larousso.
Select the template (we created in the previous section) in the Students, Partners and Employees options to be used to notify the users e.g Attendance Limit exceeded template.
In the Notification Recurrence option, you can define the number of times this notification will be resent. Or in this case just once.
The related entity field is automatically filled in once you choose a type of notification. In this case it is related to Attendance.
There are many types of notifications available, at the moment related to Absences and Assignment Workflows (Figure 14a).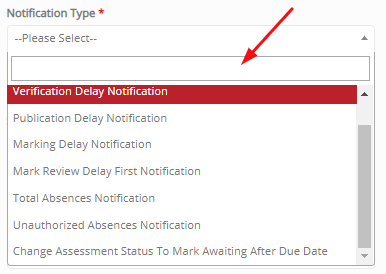 Figure 14a
The first 4 Types concern marking workflows and are used to notify teachers employees and 2nd supervisors (Content Verifiers) that an assessment has not been verified on time, has not been published on time, has not been marked on time, marks have not been reviewed on time and changing assessment status to marked after due date.
You will also see the 2 notification types regarding absences. Total Absences Notification that warns about the exceeding of attendance limits and unauthorized absences notification type that warns students, parents, teachers and employees about exceeding the limit of unauthorized absences.
To edit a notification service configuration just click on the edit button (Figure 13) and then follow the same steps as in the creation process.