Watch the How-to Video
---
The Quizzes/ Surveys page is where students will receive quizzes and surveys from the institution and or their teachers. Surveys give you the opportunity to give feedback on your experience with the Institution, Administration, Teachers and Services. Quizzes are a one time instance or part of your normal subject assessments. Quizzes are graded and you will need to follow the instructions for each quiz from the splash screen that appears before the beginning of a quiz.
By clicking on the Quizzes/ Surveys tab in the Menu area you will be directed to the main page of the Quizzes/Surveys page (Figure 156).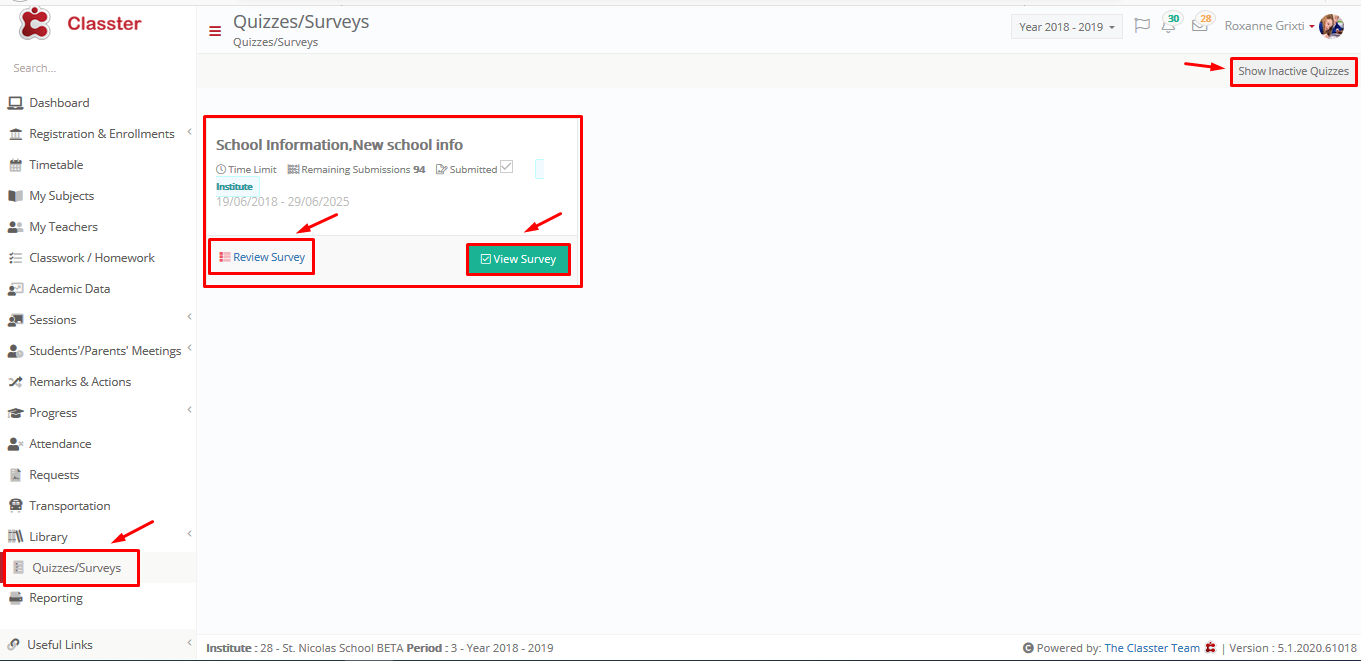 Figure 156
The main page shows you all the available quizzes/ surveys.
You can pick one survey or quiz and complete it and send it back to your teacher or institution (Figure 157 & 158):
Figure 157
Figure 158
Fill in the answers to this survey (Figure 158).
Click on "Submit Quiz" button to submit the Survey (Figure 158).
From the Quizzes & Survey page you can click on the "Show Inactive Quizzes" button to see the quizzes or surveys that are no longer active (Deadlines past or submitted) (Figure 159).
Figure 159
Once you click on the "Show Inactive Quizzes" button you will see the following appear (Figure 160).
Figure 160
Once you reach the Show Inactive Quiz page you can see all the quizzes that are not available and review them but not change them (Figure 160).
If you click on the button "Review Assignment/ Test" you will be taken to the review page where you can review answers and questions of the Quiz (Figure 161).
Figure 161