In this part of the Financial Manual we will see how we create Transaction Types/ Series, how to manage and create Dropdown lists and the General Settings that govern the Financial Module.
First step is creating and editing transaction types/ series.
Configuration > Financial Settings > Transaction Types/ Series

Figure 1
Once you click on the Transaction Types/ Series menu you will be transferred to the corresponding page (Figure 2).

Figure 2
You can use the 'Search' field by entering the name or number of the transaction.
You can view Active or Inactive transaction types/series by clicking on the Status dropdown list.
You can Print and Export the list of transactions to Excel, Word or in CSV.
By clicking on the 'Action' button next to each transaction you can choose to Edit, Copy or Delete a transaction type (Figure 3).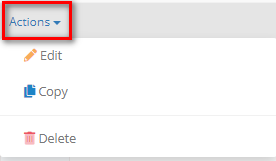 Figure 3
You can create a new transaction type/series by clicking on the + Create New button.
Create New Transaction Types/ Series
Once you have clicked on the Create New button you will be able to view the following popup window (Figure 4).

Figure 4
Basic Data
In this popup window you need to fill in the various fields to define the parameters of your new Transaction Type/Series.
The Active button is checked by default and indicates that this new Transaction should be available for use. If it is unchecked the transaction will be created normally but it will be unavailable for use in the Financial tab.
From the Category dropdown list, you can choose under which category this transaction type/series will be placed e.g. Invoice.
From the Levels dropdown field choose which location/educational level this transaction will be related to e.g. Elementary School. Note: you can add more than one level.
Add an Abbreviation for this transaction type/numbering e.g. Inv.
Add a Description for this transaction type/numbering e.g. Invoice.
From the Transaction Category dropdown list you must choose a type to be associated with this new transaction type/series in terms of the role it will play e.g. since we are creating an Invoice it should be associated with the Invoice type.
Properties
Choose one or more of the following properties:
Company,
Manual,
Arrangement,
Certification,
Is not included in the accounting,
Used in school registration book
Unable to issue vouchers or receipts on a date older than the latest voucher or receipt issued until now.
Filters
Use any of the below filters
Courses
Service Categories
Users
Arrangement Types
Printing Properties
Select a report to be used when printing the invoice.
Various Data
Set the number of days after which users will be unable to issue vouchers for the following:
Unable to issue vouchers or receipts after a certain number of days from today
Unable to issue vouchers or receipts older than a certain number of days from today

Select the Revenue Center Category form the dropdown
Select the Revenue Center from the dropdown