Tracking attendance is very important for any school, especially when it comes to children. Due to mainly security reasons, the responsibility the teachers and the school as a unit carry is great. However, it is extra tiring and time consuming for teachers to take attendance manually for every session and every subject. For this reason, Classter has created a way to do it automatically and change attendance only if a student is absent.
Tip: For further convenience, see how the attendance tab for teachers works in Classter's Mobile app.
Let's take a look how this can be defined in Classter.
From the configuration menu, go to Academic Settings→Attendance Settings. (Figure 1)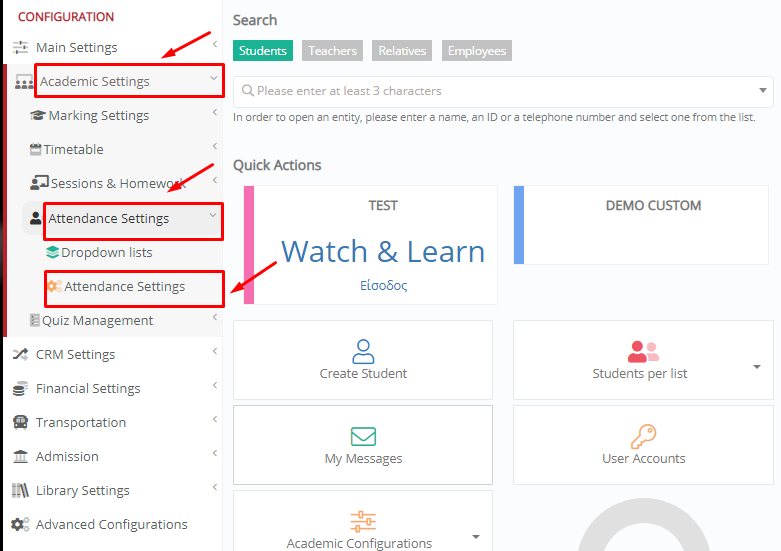 Figure 1
In the next window, in the Attendance for Subjects section, you want to activate the "Preselected Presence Category" option. (Figure 2)
Figure 2
Once you are all set, click on the "Save" button. (Figure 3)
Figure 3
As you can see, there is a long list of attendance settings. For a detailed explanation of how each setting works, read this how-to article.
Tip: Don't forget to take a look at our Attendance Management Manual to better understand all functionalities.
Attendance is very important and is usually monitored by all 3 interested parties: teachers, parents, students. For this reason, Classter has also prepared a manual for parents and students, accompanied with corresponding instructions for its mobile app for parents and students.
---
Find more or post your questions on our Facebook Community Page. Also, watch our how-to videos on our Youtube channel.