When creating a new company (employer) as a contact, select a category that allows the employer to create jobs.
From the main menu, go to Personnel & Contacts> Employees & Contacts
Create New> Companies
Add a title
Select a category
Fill in all other necessary fields. Note that fields with a red asterisk are mandatory fields.
Note: Based on the configuration, if the category selected shows that the company can have an online user account and is related with internships, then additional features will be available.
Figure 16
Verify and manage company contact under the Partner/Employer user type in User Accounts.
Company (Employer) Login Access
Now an employer can manage internships when they logon to their portal (Figure 17).

Figure 17
Manage Internships – Employer
In the main menu, under the Internships > Manage Internships section, employers can view all jobs and internships created by them.
Create New Internship
Click on the "Create New" button to create a new job. (Figure 18)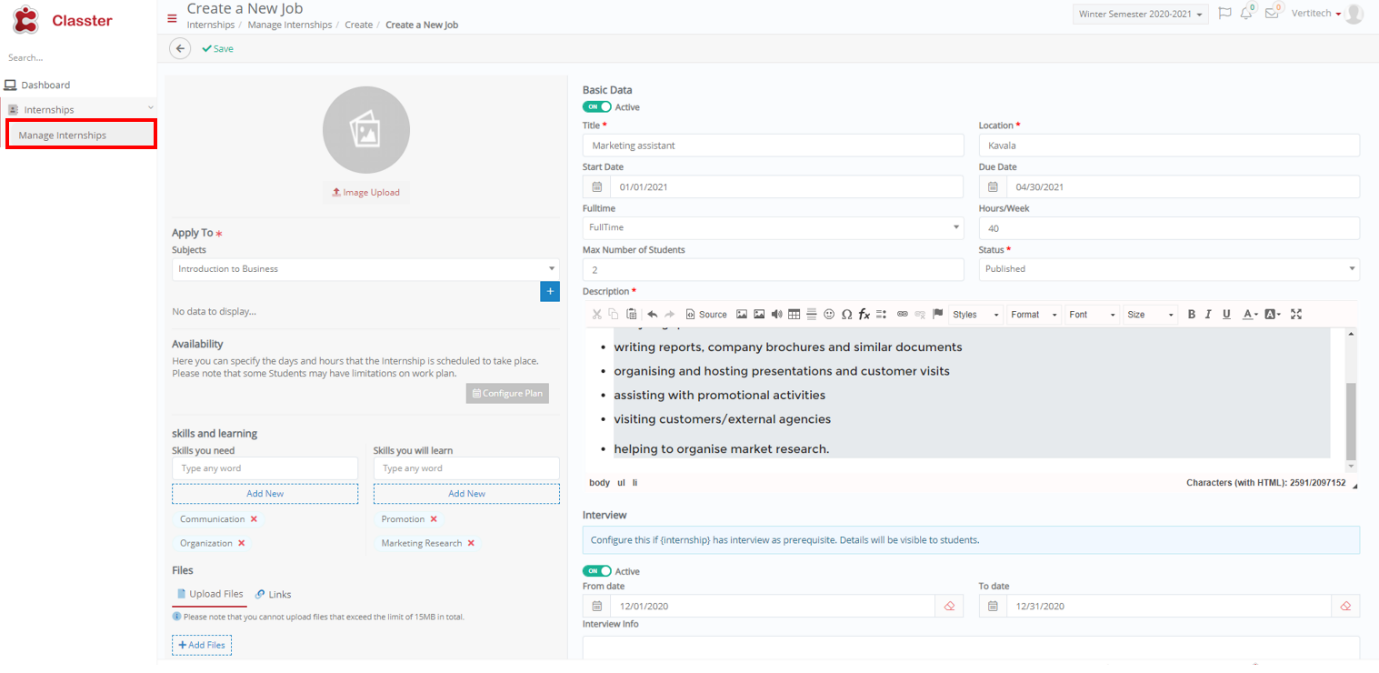 Figure 18
Basic Data
Title: Add the title of the job.
Location: Add the location the internship will take place.
Start date / Due date: The duration of the internship.
Full Time: Select if it is a full time or part time employment.
Hours/Week: Specify the hours per week.
Max Number of Students: Choose the maximum number of students to be hired by the company.
Status: The status of the internship.
Description: Add the description of the job.
Interview
Active: Enable this option if there is an interview prerequisite to getting the internship (job).
From date / To date: Set the interview date.
Interview Info: Add the interview information.
Apply To
These fields are mandatory.
Subjects: Select from the dropdown which subjects are eligible to apply. To confirm the selection, click on the 'blue cross +' button. You can add as many subjects as necessary.
Availability
An employer can select the timetable plan (as configured by the administrator when configuring the course). This is the scheduled plan, and the entries will be available for the student attendance in the logbook.
Skills and Learning
Skills you need: These are the skills the students need to have to apply for the job.
Skills you will learn: These are the skills the student will learn on the job.
Files
Files related to job can be uploaded. These could be the job description, contracts, etc.