Classter allows the educational institution to determine which fields will be visible to the applicant during the Admission process. Additionally, the system gives you the ability to include an instructions section in the Sign-Up form before accessing the Admissions Portal. The instructions help applicants with the completion of the fields available on the sign-up page.
Tip: Find out how you can manage admission applications in our Knowledge Base.
To include an instructions section in the Sign-Up form in Admissions Portal, from the configuration menu, go to Admission → Admission Settings. (Figure 1)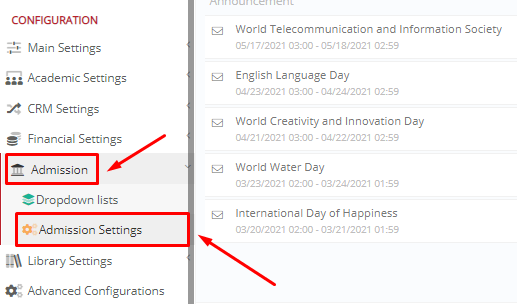 Figure 1
In the "General Admission Settings" tab, locate the "Registration Instruction Info" setting. Here you can write your "Registration Instructions" text, modify it, add links and pictures and much more, to guide your applicants through the Sign-up process. When you are ready, click on the "Save" button. (Figure 2)

Figure 2
Once you fill in the text field of the "Registration Instructions info" setting, you will see this text appear on top of the sign-up form fields. See example below (Figure 3):

Figure 3
Extra Tip: Do not forget to take a look at our Admission Module Configuration Manual to take advantage of all its capabilities.
---
For more tips and tricks in Classter, become a member of our Community in Facebook and follow our Twitter page or take a look at our how-to videos in our YouTube channel.